Links
I've complied a list of sites I visit regulary, podcasts I listen to, bands I like, and labels who put out great music. Basically, this section is where I hang out on teh Interwebs. This list will always be a work in progress.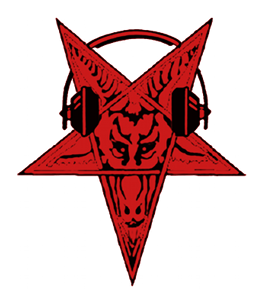 EVIL IS NOT A PHILOSOPHY. IT IS NEITHER A MEANS NOR AN END. IT IS AN ATTITUDE AND A LIFESTYLE.
Make no excuses. Support no ideology. Never explain.
You're EVIL. Just do it.
The Department of Evil is a loose affiliation of podcasters, live DJs, concert photographers, a record label and an online magazine who all are passionate about supporting and promoting underappreciated music of the darker variety.
Music Sites
Other Podcasts & Internet Radio
Tech news juggernaut with posts across a wide variety of topics, including Intellectual Property,
Geek/tech blog with special interest in censorship and privacy.
In the heart of the Silicon Valley, legal doctrine is emerging that will determine the course of civil rights and technological innovation for decades to come. The Center for Internet and Society (CIS), housed at Stanford Law School and a part of the Law, Science and Technology Program, is at the apex of this evolving area of law.
The Electronic Frontier Foundation (EFF) is the first line of defense when your rights in the digital world come under attack. Blending the expertise of lawyers, policy analysts, activists, and technologists, EFF achieves significant victories on behalf of consumers and the general public.
Free Press is a national, nonpartisan organization working to reform the media. Through education, organizing and advocacy, we promote diverse and independent media ownership, strong public media, and universal access to communications.
Future of Music Coalition is a national nonprofit organization that works to ensure a diverse musical culture where artists flourish, are compensated fairly for their work, and where fans can find the music they want.
Posts on the music industry, music publishing & copyright, and more from online music distributor, TuneCore.
This very well produced podcast is by four nerds from the Midwest who are into video games, comic books, Lost, Star Trek, DnD, and the like.
Profanity, humor, sarcasm, satire, truth. Not necessarily in that order and sometimes accompanied by a rant.
Geek Slant is a place where you can come to hear about geeky news and events that are happening in a geeky way. Topics include anything from news, games, video games, podcasting, politics, and much more.
Geektress is a website aimed at science fiction / fantasy / comic-book loving nerds everywhere. It's a news, reviews, and opinions blog written exclusively by women. They also podcast.
A fan group producing Terminator: The Connor Chronicles, a free web series continuation of Terminator: The Sarah Connor Chronicles. Non profit organization.
Site where fans of The Sarah Connor Chronicles came together as part of a global community, fighting to save the show we love.
Fans of the Sarah Connor Chronicles come together to talk about characters, time-line analysis, theories, and debates. Run by Schmacky and Roxy B., founders of savethescc.com.