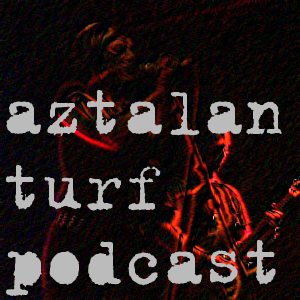 Aztalan Turf is a bi-weekly music show spanning various flavors of rock, electroclash, synthpop, EBM, goth, industrial, metal and whatever else I feel like playing. In addition to the music, you'll hear tidbits about the artists, concert reviews, interviews and extended featured artist segments that provide more than just a crash course to the music.
I'm always interested in hearing from you the listeners and you can reach me via various places. Look up in the header for links. Thanks for listening and be sure to support the artists by buying their music or merch or checking out a show.
While you're waiting for the next episode, head over to the Links page and check out some other great podcasts.
Current
055 Interview: Unwoman
November 14, 2014
I had the opportunity to interview Unwoman (aka Erica Mulkey) after her performance in St. Paul this week. Get up to speed on some of Unwoman's more recent works and listen to the interview. She discusses her musical background, her thoughts on Spotify and streaming services, her songwriting process, steampunk, and more.
Listen
Download (right click, save as) | Subscribe via iTunes | Subscribe via RSS
Full Notes & Playlist
Visit the Episode 55 page to view full show notes, including the playlist and links.