The Latest
Interview with Unwoman
November 14, 2014
I had the opportunity to interview Unwoman (aka Erica Mulkey) after her performance in St. Paul this week. Get up to speed on some of Unwoman's more recent works and listen to the interview. She discusses her musical background, her thoughts on Spotify and streaming services, her songwriting process, steampunk, and more. Check it out!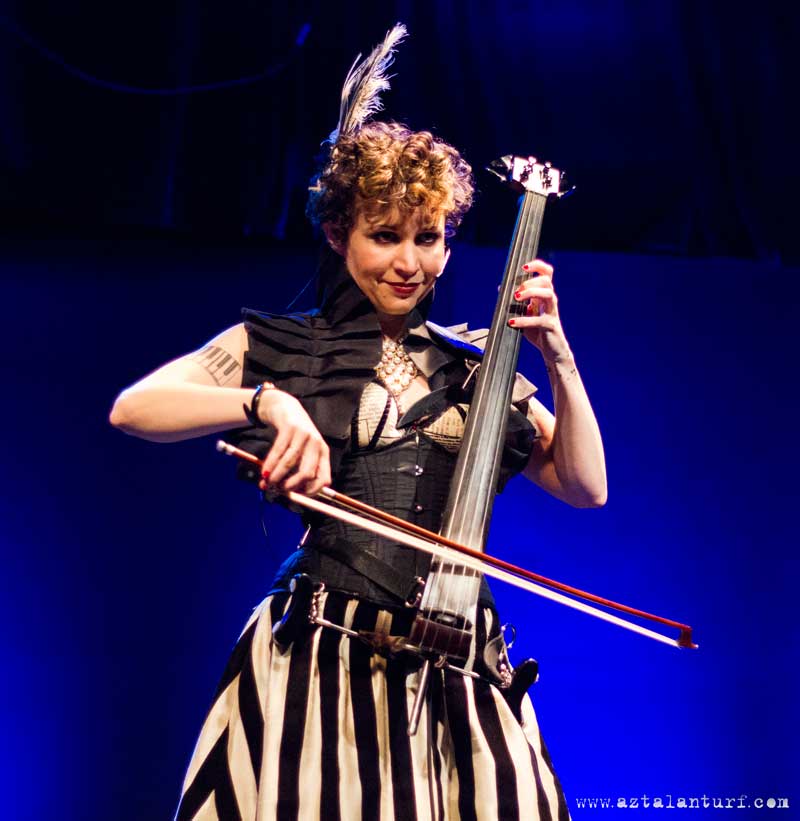 OMG a Podcast Episode!
December 29, 2013
Sorry for the long delay between shows. I took advantage of my holiday break to post an episode that includes a lot of what I've been listening to since you last heard from me. Check out the Episode 54 page to listen/download.
I:Scintilla and Go Fight Interview
February 1, 2013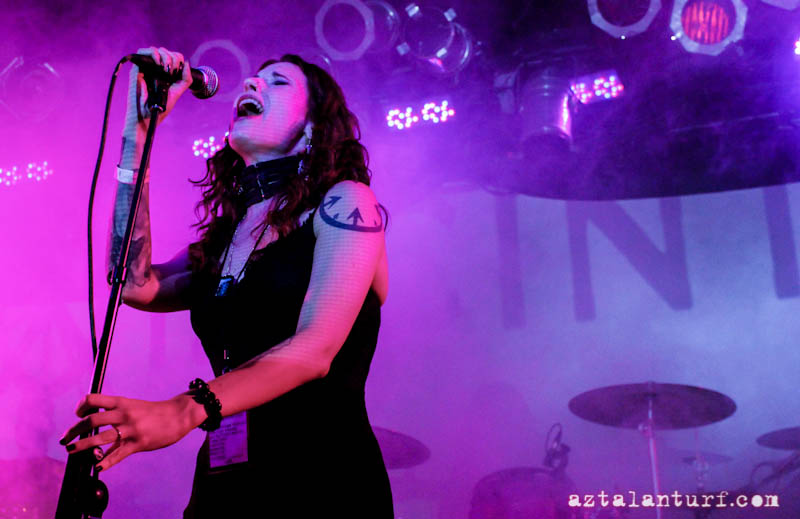 I am extremely pleased to have posted the interview/discussion I did with Jim Cookas and Brittany Bindrim of I:Scintilla and Jim Marcus and Vince McAley of Go Fight. Full show notes, links and the playlist are availalbe on the Episode 53 page. Enjoy!
Lots of Interviews
January 18, 2013
Interviews with Gabriel and the Apocalypse and I:Scintilla/Go Fight are complete. The interview with Gabriel and the Apocalypse is posted as episode 52 and is currently available. I hope to have the interview with I:Scintilla/Go Fight up as episode 53 in the next couple of weeks.
Mitchell Pattrin of Gabriel and the Apocalypse
Episode 51 and Happy New Year
December 31, 2012
There's no 2012 year in review on episode 51. I went through all the 2012 releases I bought and it was only about a dozen (and 4 were Christmas gifts), so it didn't feel appropriate to do any kind of review. For me, 2012 was all about Garbage and you've already heard about those adventures. But what I do have on this episode is a ton of music from 2012 releases, a couple of classics and some tour news. Happy New Year everyone and thank you for listening!
In website news, I'm re-working how I do the previous episodes on the Podcasts page. Each previous episode will get it's own standalone page, rather than the jQuery overlay stuff. This will allow me to direct link to specific episodes, which I wasn't able to do previously. Right now, all interview episodes are links to standalone pages. This will be expanded as I have time.
Episode 50, I:Scintilla Return to Minneapolis 3/29
December 16, 2012
Now that you're (hopefully) caught up after the podcasting frenzy that was National Podcast Post Month, I bring you episode 50. I'm not counting the NaPodPoMo episodes since they were mostly shorter episodes and they would throw off my numbering OCD. At any rate, is a significant milestone so thanks to everyone for listening, supporting the bands and the music, and for generally being awsome.
I:Scintilla return to Minneapolis on March 29. I am extremely excited about this show. They're bringing some friends this time...Go Fight and Goodnight Criminals (regular listeners...those should be very familiar names). Also joining them will be one of my favorite Minneapolis-based bands, Gabriel and the Apocalypse. I:Scintilla, Go Fight and Goodnight Criminals are also playing Chicago on March 28 and Madison on March 30. Update: The March 28 Chicago show got moved to April 5 at the Bottom Lounge. Check out the video for I:Scintilla's latest single, "Skin Tight".
National Podcast Post Month
November 1, 2012
November is National Podcast Post Month and it sounded like the thing to do, so I'm going to give it a spin (sorry...really bad pun). Anyway...The first NaPodPoMo post is up and is a "minisode" of sorts. I'm anticipating that most of the podcasts I post this month will be short shows and in bite-sized pieces, but I hope to get at least one full length show in there. We'll see how it goes. And while I'm podcasting away, check out this fantastic new video from Blindness...
Dragon*CON 2012 Is a Wrap!
September 6, 2012
I'm back from Dragon*CON 2012, exhausted and under the weather, but it was a great weekend of music, friends and uber geekiness. Thoughts from the weekend: being on a panel isn't that scary, DJ Spider and DJ Nemesis are incredible, Alice Cooper is intelligent and hilarious, and I need to listen to more Ego Likeness. I left my fancy pants camera at home so I didn't take that many pictures, but I did record some video of I:Scintilla's acoustic set with my point and shoot. Here you go...
Onward to Chicago tomorrow and the Cold Waves Jamie Duffy tribute concert!
In other news, Kilted Farmer Koncerts has booked Deviant UK, Carved Souls and for all the emptiness for a Minneapolis date on the Theory of Revolution tour on October 24 at the Triple Rock. Icon of co
Perfectionism Slows Down Podcasting
August 14, 2012
It took me multiple tries to finally get episode 48 recorded and completed. I literally re-recorded this episode 3 times...Being a perfectionist has it's drawbacks. But episode 48 is here and you'll finally get to hear a little about my trip to the UK for the Garbage tour. There's also a lot of other tour news in this episode, so for those of you in North America, pay close attention - Thrill Kill Kult, Left Spine Down, Icon of Coil, [:SITD:], Assemblage 23, for all the emptiness, The Gothsicles, Die Sektor and more will be touring this fall!
Ep 47 and Thira Interview
July 8, 2012
I'm back from my UK adventure following the Garbage tour through 4 cities and have finally posted the interview I did last month with Minneapolis-based industrial-metal band Thira. They brought all six band members and their lighting technician and I'm really glad they did because...well...just watch this clip...
Also on this episode, I play some brand new music from Ayria, Garbage, Santa Hates You and Thought Thieves, plus some VNV Nation, Gojira, Static Image and X-Rx.
I'm going through photos and videos from my trip as fast as I can and hope to have another episode up fairly quickly after this one. Until then, here's a little taste of the trip. It looks like Control is going to be the next US single. Start requesting it on your local terrestial radio station because it seriously rocks!
We Are Not Your Kind of People
May 13, 2012
Episode 46 is up! Looks like I'm back into the groove of podcasting. And I'm not done fangirling on Garbage, either. DJ SLT of KFAI's Across the Board and I are hosting a Not Your Kind of People album release party on Wednesday, May 16 at Clubhouse Jager before TRANSMISSION. Get there early because we start playing the record right at 9 pm so we can be done by 10 pm, when TRANSMISSION starts. And if you haven't seen my blog post about the album's closing track, Beloved Freak, check it out here.
I'm Back!
April 29, 2012
Well hello there! It's Renee and I'm back after a much longer break than I had intended. In the interim, I spent 2 weeks celebrating my birthday by throwing a huge birthday bash and concert with three of my favorite bands, catching a bunch of live shows, and travelling in a pack full of darklings to see Garbage play in LA and Las Vegas. Now that I've had some time to catch my breath, I've put together episode 45, where I talk about my adventures and play a bunch of music that has been piling up while I've been away.
I:Scintilla performing Worth the Wait at the big birthday bash:
Garbage performing new song Automatic Systematic Habit in LA on April 10:
While You've Been Watching the Super Bowl
February 5, 2012
While most of the world has been watching the Super Bowl, I've been getting Episode 44 together. It's now available! There is a ton of new music on this episode and I finally play the song that gives the show it's name - All the Good in This Life by Garbage is the featured track. Enjoy!
New Links Section
January 28, 2012
I've been working on a brand new layout for the Links page and it's finally live! Now..with tabs! And more band links! Yay!
Archive
Visit the News Archive for older posts.